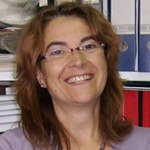 I am delighted to welcome the students who have chosen the Faculty of Pharmacy of the Universidade de Lisboa as their exchange destination. The opportunity of attending part of your studies in a country with a different culture and educational system is always a remarkable experience. I hope your stay in the Faculty of Pharmacy corresponds to your expectations and that you can combine your studies with the intense and active life of Lisbon.
Lisbon is a vibrant, cosmopolitan and creative city that has managed to successfully link the historic with the modern, the traditional with the cutting edge. It is an intimate city with characteristic and surprising sights, cultural treasures, and a beautiful setting that make it a paradise for walker.
Lisbon is a friendly city with a cosmopolitan population, welcoming to all visitors and open to minorities and alternative lifestyles. It hosts a significant immigration community and it offers interesting economic possibilities and quality activities in the domains of education, science and culture.
I would like to wish you lots of new scientific and cultural experience and an enjoyable stay with us.
Helena Maria Cabral Marques, Erasmus Coordinator